We are a Finnish family business
We offer digital messaging services from EDI-messaging to electric sales and purchase invoices. Our solutions contain message transfering, telecommunication connections and routing from our homeland to locations worldwide.
Our main office is situated in Seinäjoki, Finland. Our customer base consists of over 600 companies in dozens of fields, for example logistics, food and manufacturing industries.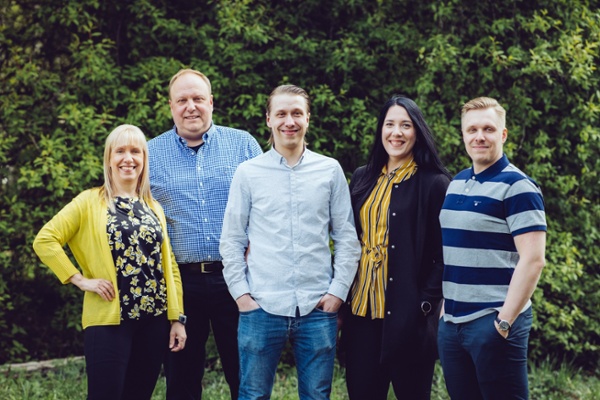 The owner family Hakanpää
Our advantages are agility, employees' well-being and customer service

OWS Finland is an agile size company for customers and system suppliers. When being in cooperation with us, we act in a fluent way and the hierarchy in our company is low. A team of experts takes care of the project and the back up team is ready to help too. We aim to grow so the collaboration has a future.
We invest in the well-being of our employees and this reflects all the way to our customers. This way everybody wins. You recognise us from excellent customer service which has a friendly face.
The Company History
OWS Finland Oy, or OWS for short, began its messaging activity in 2002 when OWS was still only one of Rauhala Yhtiöt Oy's business operations. From the beginning of 2013, OWS became a subsidiary company of Rauhala Yhtiöt Oy group under the name OneWay Sanomanvälitys Oy. As of the beginning of 2017, OneWay Sanomanvälitys Oy acquired Servinet Communication Oy from its parent company and changed the company name to OWS Finland Oy to signify the merger of the two companies.
Marketing Materials
Do you need our logo or pictures? You can find them here.
Our way of doing business
Strategy
The well-being of employees is the base to everything we do.


2) SERVICE WITH A FACE, SUPERIOR CUSTOMER EXPERIENCE
Our people's well-being reflects all the way to customers and other business partners.


3) RESULTS ENABLES THE FUTURE
When our people are well-being and customers are served superbly, this will inevitably result in success.
Values
constant renewal
openness
reliability
know-how and motivation
productivity
You can always trust our high-quality service and solutions. We want to help you increase the productivity of your business operations. When we achieve good results we promote broader security for both our customers and our own staff. We value honest, direct and good-natured communication between people. Training our staff and applying the latest knowledge in the field is both a benefit to our customers and a factor that helps our employees grow and develop.
Rauhala Yhtiöt Oy
Rauhala Yhtiöt Oy is a Finnish family-operated company with over 20 years of experience and a focus on entrepreneurship. Our group of companies employs over 50 skilled and certified professionals who take care of our customers' information technology, systems, messaging services, communications, payroll and financial administration services.
Our group's mission is to find out on a case-by-case basis what kind of solutions would best serve your company's operations. We react quickly to changes on your behalf and acquire the latest knowledge to benefit your business operations – the fast development cycle of systems and the related services requires constant vigilance. We guide, train, install, support and, first of all, find out what kind of solutions and services your everyday operations require.